Luxury Yacht Vacations
---
Nothing beats having your own private pool while on vacation. Early morning swims, late-night dips, sunbathing in privacy and room for the kids to splash all they want. But what if you had an entire ocean to yourself, and what if your villa was floating?
In Los Cabos, personalized luxury accommodations come in many forms—boutique hotels, beach resorts, luxury villas and more.
More large yachts—70 feet and over—than ever before will be gracing the Cabo San Lucas Marina this season, providing exclusive access to luxury live-aboard vacations previously unavailable to Los Cabos visitors.
The luxury yachts are very much associated with the luxury villas. You can actually use the yachts as accommodations as well as a platform for adventure. You can fish, lounge on the decks and play in the water all while enjoying a truly unique getaway and amenities rivaling those of fine hotels.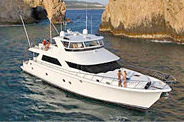 Luxury yacht prices range from $2,500 to $8,000 per day with a wide variety of activities available. Visitors can snorkel with sea lions, fish till their heart's content, watch pelicans swoop above the waves or kayak along craggy coves. For an extra touch of luxury, plasma-screen TVs, private bathrooms, luxurious linens and gourmet chefs are available to pamper guests aboard. For groups of six to 12 people who wish to explore the Sea of Cortez on an extended adventure, weeklong trips range from $25,000 to $50,000.
If the salty wind in your hair is better appreciated in shorter doses, we offer Los Cabos' best watercraft for fishing, snorkeling, exploring and special events. Charter a catamaran for an evening of cocktails, live music and gourmet cuisine. Reserve a pirate ship for a festive sunset cruise. Or, hop on a small yacht at daybreak and zip around to different coves comparing snorkeling experiences.
Please call toll free 1-888-317-2226 for yacht reservations
---