Cabo Tour Information
---
Cabo Dolphins
Cabo Dolphins offers people of all ages the rare opportunity to swim and play with beautiful Pacific Bottlenose dolphins while visiting Cabo San Lucas, Mexico.
Manta Scuba Diving
Manta SCUBA Diving is located in Cabo San Lucas on the southern tip of the Baja Peninsula, Mexico, where the Sea of Cortez meets the Pacific Ocean and the desert and sea create an area of unspoiled beauty.
Rissalena Motorboat Cruises
The Rissalena is a newly commissioned, custom designed, 37 foot power catamaran. Whatever your cruise of choice, your comfort, pleasure and safety are the crews priority.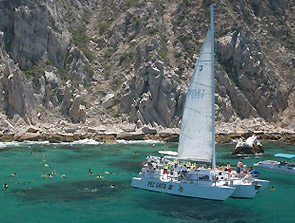 Pez Gato Catamaran Tours
Hop onboard the Pez Gato, Cabo's premier catamaran tour. with 18 years of bringing fun to Los Cabos, Pez Gato now has three great boats to choose from!
Buccaneer Queen
The Buccaneer Queen, a famous, 96-foot ship that has been used as a movie set and for TV commercials, is now sailing the waters around Cabo San Lucas. The Buccaneer Queen Ship offers snorkeling tours, sunset cruises, private charters and whale watching trips. (Jan-March).
Todos Santos Art Tour
Enjoy a scenic one hour drive up the Pacific Coast to the quaint little town of Todos Santos. You'll visit a variety of unique art galleries, colorful shops, and outstanding restaurants. This tour is provided by "TransCabo" Ground Services.
Tropicat Catamaran Tour
Come and experience Cabo's newest and most luxurious super cat, 'Tropicat'. At 65', this catamaran is truly in a class of it's own. Whether you plan on spending the day snorkeling in the azure waters of the Sea of Cortez, looking for whales or sailing into a gorgeous Cabo sunset, Tropicat is sure to deliver the experience of a lifetime.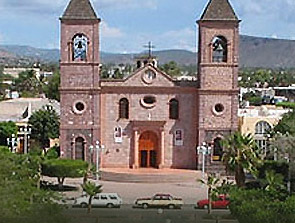 La Paz Cultural Tour
Start this wonderful tour from your hotel door driving along the Sea of Cortez two and a half hours to La Paz, the state capitol. Enjoy admiring the flora and fauna along the way. The first stop will be in Los Barriles to take in a panoramic view of the area.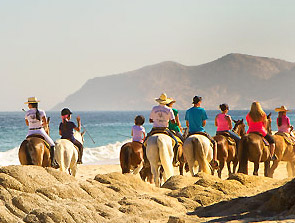 Cuadra San Francisco Horseback Riding Tours
Cuadra San Francisco offers the best horseback riding in all of Cabo. Enjoy a one hour ride into the hills or to the beach, or a two hour ride into the desert where you'll experience many mysteries and rugged beauty.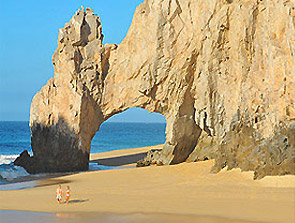 Los Cabos City Classic Tour
This tour begins in San Jose's downtown area. Spend an hour shopping for local arts and crafts. While traveling through the Tourist Corridor you will enjoy views of championship golf courses and the Sea of Cortez before arriving for an hour of shopping in Cabo San Lucas.
Canyon Canopy Adventures
The Canopy Tour is the true summit of high adventure, taking you on a series of thrilling canyon "flights." Experienced guides will be there every wild whoosh of the way, to ensure your safety as well as your thrills.