The Villa Group's Desert Spa at Villa del Arco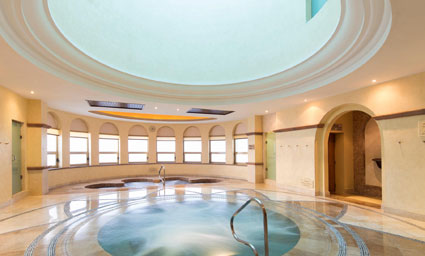 A significant segment of the beautiful spa is its fitness center. The state-of-the-art, 4,500 square-foot fitness center features seven treadmills, four elliptical bikes, three stationary bikes, 10 strength-training stations, a multi-purpose station, four free-weight stations, and a yoga/Pilates studio with classes, lockers and showers, all presided over by trained fitness professionals.
Designed in the Mexican hacienda style, the Spa complements its natural setting with earthy tones, ample natural light, and the scents and flavors of Baja. Its upscale environment, utmost attention to detail at every level and commitment to flawless service will ensure that your spa experience is an exercise in restorative indulgence. Fine-tune your mind, body and soul: order freely from the rich menu of Desert Spa services, and feel your cares slip softly away.