Villa del Palmar Beach Resort &amp Spa | Activities
Whether in the water, on land or in the air, you'll find an abundance of fantastic activities to add to your vacation experience in Los Cabos. Sunset cruises, gourmet restaurants, ocean-view golf courses, scuba diving, fully equipped fishing charters, or relaxation on one of Cabo's spectacular beaches - are all within easy reach.
Activities and Tours in and around Villa del Palmar
For watersports, you can easily rent equipment at Médano Beach (the main beach in Cabo San Lucas), and enjoy kayaking, sailing, boogie boarding, water-skiing, and snorkeling. Snorkeling and scuba diving are excellent for all levels near the Arch at spots such as Pelican Rock, Neptune's Finger and the Sea Lion Colony. In the Corridor, Chileno Bay and Santa Maria Bay are great for snorkeling. Guided snorkel cruises are available.
On land, cultural tours reveal the charms of Cabo San Lucas and San José del Cabo. Desert off-road adventures let you experience the unforgettable thrill of exploring the rugged landscape while you maneuver a Jeep, Hummer or Rhino. Zip-line tours, led by professional guides, let you safely soar above stunningly beautiful canyon canopies. And for a gentle and relaxing view of Cabo's natural beauty, a horseback ride along a pristine beach is an afternoon treat.
In the air, check out the sights of Cabo via parasailing trips which let you glide safely above the coastline for memorable "pelican's-eye" views.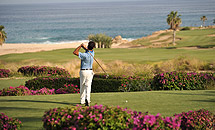 Golfing in Cabo
It's no wonder golf enthusiasts flock to Los Cabos. Playing golf in Cabo offers you breathtaking views of the Sea of Cortez, the mountains, and the desert landscape, along with challenging courses designed to make for an unforgettable time on the links. With magnificent terrain and a number of beautiful and challenging courses to choose from, Los Cabos is truly a golfer's paradise.
Not only does Los Cabos have sunshine practically every day of the year, with spectacular views, it also has courses designed by some of of the biggest names in golf including Jack Nicklaus, Robert Trent Jones II, Pete and Perry Dye, and Tom Weiskopf. Play areas are built into the natural terrain, carved out of pristine desert campus with beautiful natural cactus and rock formations. Lush green fairways provided dramatic contrast to the backdrop of the rugged terrain. There are few places in the world where you can enjoy some of the world's finest golf while taking in such dramatic scenery. Los Cabos is one destination with that elusive perfect blend of outstanding natural wonder and world-class design by the biggest professionals in golf.
All tee-time reservations should be made as far in advance as possible to assure availability. Please make your reservations a minimum of 7 days in advance to confirm your preferred tee-times.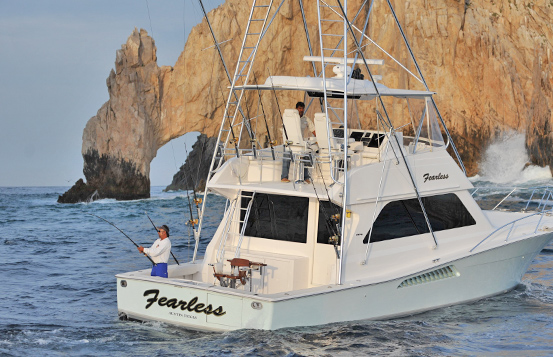 Fishing in Cabo
Los Cabos has become a fishing mecca, due to the perfect confluence of currents from the Pacific Ocean, underwater geography and water temperatures in the Sea of Cortez. These are some of the richest waters in the world and the fishing is unlike any in the world, due to the dramatic setting and the year-round bounty of the catches. Anglers from all parts of the globe make their way each year to Cabo San Lucas, to try and catch prize marlin and other billfish.
You'll also find sierra, jacks, pompano, cabrilla, snook & snapper in the sparkling, pristine Sea of Cortez. Varying with the seasons, you'll also find the spectacular (and delicious) dorado in abundance. Enormous tuna, fierce wahoo, yellowtail and the impressive roosterfish are some of the highly desired catches.
Fishing charters, led by experienced captains and crews, know how to target the best local spots, depending on the time of year. With an emphasis on conservation, catch and release of big game fish is highly encouraged; after an epic battle and a photo-op, releasing these stunning creatures ensures the preservation of Los Cabos' healthy sportfishing populations for generations to come.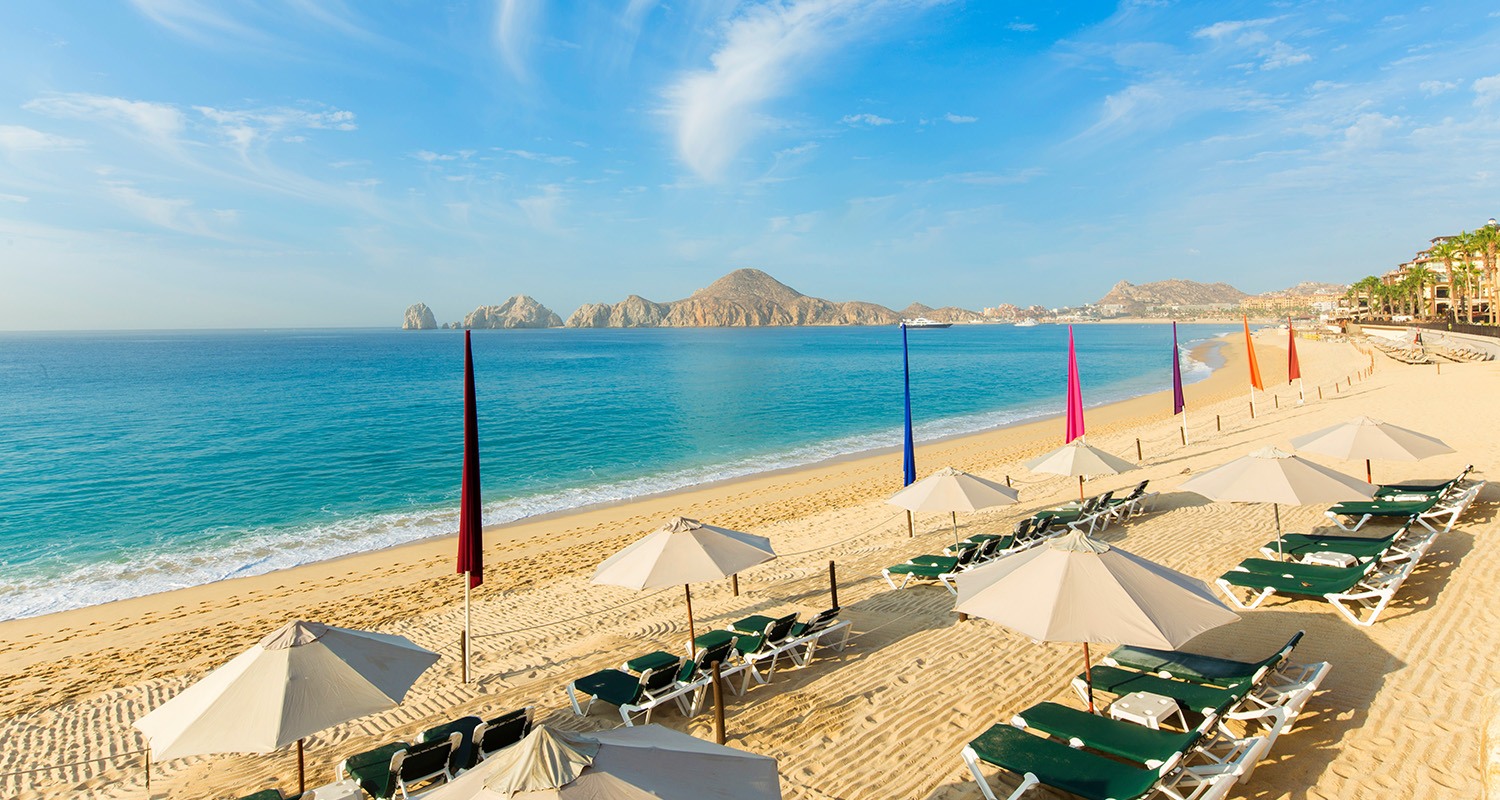 The Beautiful Beaches of Los Cabos
Pacific Beaches in front of the Solmar Hotels and Pedregal community are wide, smooth and wonderful for strolling, sun-bathing, sunset views and listening to the sound of the surf. Whale watching and enjoying the scenery are the favorite pastimes. Rough surf make this area unadvisable for swimming.
Lover's Beach, or "Playa de Amor" is tucked close to Cabo's landmark, "El Arco" at Land's End. This photogenic beach is accessible via a water taxi from the marina or glass-bottom boat. Snorkeling can be good here depending on conditions. Neighboring "Divorce Beach" faces the Pacific side and is not safe for swimming.
El Médano is Cabo's most popular beach and is great for family fun and watersports. All types of equipment can be rented here. There are great restaurants and cantinas along the beach.
Shipwreck Beach, Playa Barco Varado, Km. 9.5. In the 1960's, a Japanese freighter found an unfortunate final resting place here. Now fishing, diving, snorkeling, swimming and surfing can be enjoyed here.
Widow's Beach, Playa de las Viudas, Km. 11, can be good for swimming depending on conditions. Tide pools with interesting marine life make it an underwater explorer's dream.
Santa Maria Bay, Km. 12, is one of the world's most beautiful bays. This is a great place for those in search of tropical sea life. Rugged mountains drop into the water at either side of this perfect moon-shaped beach, flanked by rocky slopes. Ideal for swimming, snorkeling and diving. Make a day of it and bring your own picnic lunch.
Chileno Bay is considered one of Cabo's best all-around beaches. It is renowned for excellent swimming, snorkeling, diving, kayaking, waterskiing and surfing. Rocky reefs run parallel to the beach, creating some of the best chances for snorkelers to view tropical sea life.
Palmilla Bay is famous for its spectacular scenery, good swimming, kayaking, and snorkeling. This is a beautiful, wide, crescent-shaped bay with shade palapas. You can walk the beach and see the well known One and Only Palmilla Resort. It is also the launching pad for the Palmilla fishing fleet.
Acapulquito, This is a hot surfing beach. If it's too rough for your tastes, don't worry... people-watching makes up for it.
Costa Azul Beach is a favorite with local surfers, with competitions held each year. Swim with caution and watch our for surfers! San José del Cabo's fishing fleet is based here and at daybreak it's a sight worth seeing as the boats chase the sun.
Hotel Beach is a mile from historic downtown and is San José's main beach. It is lined with resort hotels and is excellent for jogging, walking, beach volleyball and surf fishing. It is not advised for swimming or watersports.
Los Cabos meets luxury accommodations and world-class amenities at this fine beachfront resort. Set right on a pristine beach just five minutes from downtown Cabo.
Overlooking breathtaking Médano Beach in Cabo San Lucas, the Villa Group's Desert Spa is a spectacular 31,000 sq ft facility boasting a wide variety of body treatments, massages, and state-of-the-art amenities
Be assured that whichever style you choose you will never want to leave. From your sumptuously appointed rooms, the stunning views of the Sea of Cortez are matched only by the attention to detail in every room.